January 30, 2023
Curing the AI Way
The Big Picture features technology through the lens of photographers. Every month, IEEE Spectrum selects the most stunning technology images recently captured ...
IEEE Spectrum
CES 2023: Matter — Unlocking The Smart Home
Every year, after recovering from CES, I take a step back and evaluate the most influential IoT technology trends. This year's winner is Matter, a new industry standard ...
Forbes
Smartphone Shipments Suffer the Largest-Ever Decline
Worldwide smartphone shipments declined 18.3% year over year to 300.3 million units in the fourth quarter of 2022 (4Q22), according to preliminary data from the International Data Corporation (IDC) Worldwide Quarterly Mobile Phone Tracker. The drop marks the largest-ever decline in a single quarter and contributed to a steep 11.3% decline for the year. 2022 ended with shipments ...
IDC
VIEWPOINT 2023: Matthias Fehrenbach, CEO, Eutect GmbH
We cannot complain about the year 2022. The order situation was very good, also with regard to the coming year. So the positive trend will continue in the new year. Although the decision-making periods for our customers have become longer, we use the time and actively support them in equal measure with our expertise ...
Eutect GmbH
EU, U.S. Making Moves to Address Ethics in AI
The United States and European Union are divided by thousands of miles of the Atlantic Ocean, and their approaches to regulating AI are just as vast. The landscapes ...
EE Times
BoW Strengthens Pathway to Chiplet Standardization
This week's Chiplet Summit underscores the rapid evolution of the ecosystem around multi-die chip design. Such a gathering of experts emphasizes how this area ...
EE Times
4 Keys to Achieve Business Success in a Time of Crisis
Those that have heard me speak, know that I am fully invested in creating opportunities for minority business enterprises (MBEs) to grow and scale their businesses. ...
Entrepreneur
IEEE Discusses 6 Simple Solutions to Climate Change at COP27
Simple, effective solutions that can help lessen the impact of climate change already exist. Some of them still need to be implemented, though, while others need to be ...
IEEE Spectrum
Elon Musk says a Chinese automaker will likely be second to Tesla: 'They work the smartest'
Elon Musk said that a Chinese automaker is likely to be the closest competitor to Tesla, while stressing the company is "winning in China" right now. Tesla has a number ...
CNBC
Rapid Open RAN Adoption Challenges the Supply Chain
The proliferation of 5G remains a bright spot in an otherwise lackluster electronics market. Enterprise demand for private wireless networks, fueled in part by Open RAN, ...
EPS News
Wet-Based vs. Dry-Based Cleaning
For automatic under-stencil cleaning there are many cleaning methods including dry vacuum cleaning, wet dry vacuum cleaning. What factors should we consider to ...
Circuit Insight - Board Talk
Apple couldn't save the smartphone industry from its worst year since 2013
The personal-computer market just capped off a bad year, but the smartphone market suffered more—at least by one metric. The smartphone industry shipped 1.2 ...
Market Watch
Global Impact: US-China tech war's toll made visible at world's largest electronics show
If Washington has one message for China in 2023, it may as well be this: stay in your lane. And for many companies on display at the world's largest electronics show ...
South China Morning Post
Effect of Process Changes and Flux on Mid-Chip Solder Balling
Paper documents experimental work performed to understand the impact on mid-chip solder balling from the manufacturing process and flux chemistry.
Circuit Insight - Production Floor
The Future of Testing Self-Driving Cars
On the second floor of the University of Delaware's Spencer Lab, a 20x20 foot model city — complete with tree-lined roundabouts and brightly-colored shops and ...
University of Delaware
Where Will AI Take Us This Year?
Over the past decade, artificial intelligence has matured from a laboratory curiosity to a pervasive technology applied to everything. The AI market is poised to reach $1.6 ...
EE Times
PCBCart
Located in China, PCBCart is a professional PCB production service provider with more than 10 ...
Gigahertz-Optik, Inc.
Gigahertz-Optik GmbH founded in 1986 in Puchheim near Munich, Germany designs, manufactures and calibrates instruments ...
EpoxySet Inc.
EpoxySet is an innovative custom formulator of Epoxies, Urethanes, Silicones, Thermal Greases and UV cures ...
Celestica Inc.
Celestica enables the world's best brands. Through our unrivalled customer-centric approach, we partner with leading ...
Today's Sponsor
Test Your Knowledge
Which one of these countries' flags does not contain any blue stripes: Russia, Finland, Austria, Cuba
See answer below.
Cleaning with Sodium Bicarbonate
Is there an affect on PCBA long term reliability for assemblies cleaned with a "Sodium Bicarbonate" scrub, followed by DI water rinse, to remove tarnishing of silver ...
Responses by:


Charlie Pitarys
Technical Expert Sales Support, Kyzen Corporation

Doug Pauls
Principal Materials and Process Engineer, Collins Aerospace

Mark Finstad
Senior Applications Engineer, Flexible Circuit Technologies

Peter Biocca
Senior Market Development Engineer, Kester
More Ask the Experts
ASK A QUESTION?
Quote of the Day

"Always listen to the experts. They'll tell you what can't be done and why. Then do it."
Robert Heinlein
What Year Was It?
National Geographic Society Founded
The National Geographic Society is founded in Washington, D.C., for "the increase and diffusion of geographical knowledge."
The day was Jan 27. What year was it?
Cartoon of the Day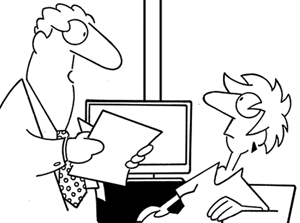 "The computer is tired of you taking all the credit and it's demanding half of your paycheck."


Copyright © Randy Glasbergen
Test Your Knowledge Answer

Which one of these countries' flags does not contain any blue stripes: Russia, Finland, Austria, Cuba
Answer: Austria