Viewpoint
February 24, 2021


VIEWPOINT 2021: Robert Black, America's Sales Manager, Essegi Automation S.r.l.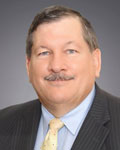 Robert Black, America's Sales Manager, Essegi Automation S.r.l.

In my 45 years working in the electronics production equipment industry, 2020 will stand out as the most challenging year most of us have ever experienced. While the beginning of the COVID 19 pandemic hit our industry hard, I'm very proud of how electronics production companies rose to the challenge and coped with the protocols to keep production running and finished products being delivered.

At Essegi Automation we are proud to announce that we delivered more automated storage systems in the Americas in 2020 than we had in 2019. I want to thank our sales and service partners at Juki Automation Systems for continuing the growth in our product sales and achieving the sixth straight year of sales growth in the Americas. I want to especially thank the technical support and field service teams at Juki for performing a record number of installations in spite of the difficulties presented by Covid 19. I also want to thank the management at Juki for providing full PPE for all the service and technical support individuals traveling to customers. Bill Astle and the whole team at Juki – Thank You!

In 2021, Essegi Automation looks forward to a year of dynamic growth and increased market penetration. As the largest manufacturer of automated component storage systems, we thank our many customers for their continued confidence and use of our products. As the pandemic lessens its grip due to the growing population of vaccinated individuals, we forecast dramatic growth in sales, especially in the second half of 2021. And we will be pleased to introduce further leading-edge technology allowing our customers to fully benefit from outstanding ROI's.

Robert Black, America's Sales Manager
Essegi Automation S.r.l.
Viewpoint Index
Free Newsletter Subscription
Circuitnet is built for professionals who bear the responsibility of looking ahead, imagining the future, and preparing for it.

Insert Your Email Address