What Year Was It?
Cyanide-laced Tylenol Kills Six
Flight attendant Paula Prince buys a bottle of cyanide-laced Tylenol. Prince was found dead on October 1, becoming the final victim of a mysterious ailment in Chicago, Illinois. Over the previous 24 hours, six other people had suddenly died of unknown causes in northwest Chicago.
The day was Sep 29. What year was it?
September 29, 2023
Autonomous World: A $10 Trillion Market Opportunity
In a world marked by relentless technological innovation, there is a megatrend on the horizon that promises to reshape industries, revolutionize everyday life, and open up vast economic opportunities. Anything that moves in the future will be autonomous! My team of foresight specialists at MarketsandMarkets have coined this as an Autonomous World – a Mega Trend that could be worth ...
Forbes
Mil/Aero Buyers Face Unique Battle With EOL
In a world where everyone wants to upgrade to the next big electronics offering as soon as possible, buyers in the military/aerospace (mil/aero) market find themselves ...
EPS News
Accelerating Analog Design Migration
Today's electronic chips are commonly comprised of a mix of analog, RF, and digital components, with increasing functionalities, complexities, and numbers of ...
Semiconductor Engineering
How To Rework Warped PCBAs?
From a large lot, 20 populated boards with components of varied heights on both sides are warped. What methods can they use to flatten them? Jim Hall and Phil Zarrow, ...
Circuit Insight - Board Talk
✷ ✷ Supplier Spotlight ✷ ✷
Accu-Assembly Inc.
Founded in 1997, Accu-Assembly is an industrial automation company. The company designed the first TOTAL ...
Nordson Test & Inspection (previously Nordson DAGE)
Nordson DAGE's award winning X-ray systems have been specifically and ergonomically designed for Printed Circuit ...
Nordson SELECT
Our core business is selective soldering. With a combined 25 years of experience in electronics ...
Ultrasonic Systems, Inc.
Ultrasonic Systems, Inc. (USI) manufactures high performance spray coating equipment based on proprietary ultrasonic spray ...
Test Your Knowledge

Which of the following is not an acronym? RADAR, RADIO, SCUBA, or LASER
See answer below.
Quote of the Day

"Old age is not so bad when you consider the alternatives."
Maurice Chevalier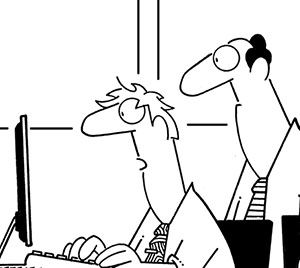 "I actually have nothing to say, so my presentation should only last an hour or two."


Copyright © Randy Glasbergen
Test Your Knowledge Answer

Which of the following is not an acronym? RADAR, RADIO, SCUBA, or LASER
Answer: Radio. RADAR (RAdio Detection And Ranging), SCUBA (Self-Contained Underwater Breathing), LASER (Light Amplification by Stimulated Emission of Radiation)