Ask the Experts
Insufficient Plated Hole Fill with Electrolytic Capacitors
We are having problems achieving the minimum hole of 75% on electrolytic capacitors using our wave soldering. What do you suggest?
Responses by:


Richard D. Stadem
Advanced Engineer/Scientist, General Dynamics

Paul J. Koep
Global Product Manager, Alpha

Greg York
Technical Sales Manager, BLT Circuit Services Ltd

Rodney Miller
Capital Equipment Operations Manager, Specialty Coating Systems

Leo Lambert
Vice President, Technical Director, EPTAC Corporation

Peter Biocca
Senior Market Development Engineer, Kester

Fritz Byle
Process Engineer, Astronautics

Subrat Prajapati
Supplier Quality Leader, Ge Healthcare

Lee Levine
President, Consultant, Process Solutions Consulting Inc.

Terry Munson
President/Senior Technical Consultant, Foresite

Gerard O'Brien
President, S T and S Testing and Analysis

Kris Roberson
Manager of Assembly Technology, IPC
Conformal Coating Over Heat Sinks
Competing Reflow Oven Zones
Dross Particles Sticking to PCBs
Gold Plating and Embrittlement
Selective Solder System Purchased At Auction
Gold Plated Hole Defects
Gold Edge Contact Flux Contamination Failures
January 21, 2022
Obsolescence Throws Another Curve Ball in the Supply Chain
When the supply chain is squeezed, how do you find parts that are already elusive? Picture this: You are an electronics OEM working in defense/aerospace, medical, telecom, or the industrial controls sectors -- where a large part of your bill of materials (BOM) consists of mature devices. In your world, manufacturers' product discontinuance notices (PDNs) come out regularly and the hunt for obsolete ...
EPS News
VIEWPOINT 2022: Milan Shah, Founder and CEO, Royal Circuit Solutions
There are circuit boards inside almost every product: toothbrushes, automobiles, televisions, etc. Right now, there are probably a dozen circuit boards within arm's reach. The companies that make these products didn't stop production during the recent component shortage. Instead, the good ones redesigned ...
Royal Circuit Solutions
VIEWPOINT 2022: Paul Wells, CEO, sureCore
2021 has been a great year for sureCore -- we've seen a heightened interest in our low power embedded memory technology across a wide spectrum of applications including medical, consumer, high performance computing and augmented reality. Our central message of the criticality of addressing the power consumed ...
sureCore
AI expands HBM footprint
High bandwidth memory (HBM) is becoming more mainstream. With the latest iteration's specifications approved, vendors in the ecosystem are gearing to make sure ...
EE Times
✷ ✷ Supplier Spotlight ✷ ✷
Zuken USA, Inc.
Zuken works with leading global companies to optimize their electrical and electronic engineering design processes, ...
Fujipoly America, Corp
Fuji Polymer Industries was established by a joint capital venture between Dow Corning and Chugai ...
ACL Staticide Inc
For more than 50 years, ACL, Inc. has been a trusted supplier to electronics manufacturers ...
Pickering Interfaces
Pickering can help you design, deploy and sustain your automated test system. Enhance your engineering ...
Test Your Knowledge

What glass-cleaning device did Mary Anderson invent in 1902?
See answer below.
Quote of the Day

"Any sufficiently advanced technology is indistinguishable from magic."
Arthur C. Clarke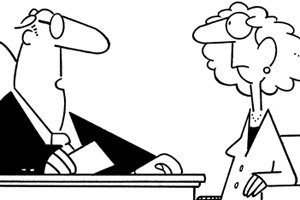 "A cubicle with a periscope is the same as an office with a window... let's not nitpick."


Copyright © Randy Glasbergen
Test Your Knowledge Answer

What glass-cleaning device did Mary Anderson invent in 1902?
Answer: The windshield wiper