Ask the Experts
Through Hole Connector Solder Joint Hole Fill
When looking at IPC610D in relation to through hole connectors and Class III level soldering. What is the recommended inspection method to ensure the 75% ...
Responses by:


Bill Coleman
Vice President Technology, Photo Stencil

Subrat Prajapati
Supplier Quality Leader, Ge Healthcare

Leo Lambert
Vice President, Technical Director, EPTAC Corporation

Richard D. Stadem
Advanced Engineer/Scientist, General Dynamics

Peter Biocca
Senior Market Development Engineer, Kester

Fritz Byle
Process Engineer, Astronautics

Paul J. Koep
Global Product Manager, Alpha

Robert Freid
President and Founder, Contract Manufacturing Consultants, Inc.

Kris Roberson
Manager of Assembly Technology, IPC
Reliability of Automated Soldering vs. Hand Soldering
How to Re-qualify BGA Spheres
Reusing recovered solder paste
Pick and Place Machine Calibration
Extending Shelf Life for Jars of Solder Paste
Profiling for Double Sided BGA
Solder Balling Prediction Formula
December 7, 2022
IBM Reveals Its 433 Qubit Quantum Computer
The theme of this year's IBM Quantum Summit, held in November, was "The Next Wave," as IBM believes quantum is rapidly approaching an inflection point. The company hit several Quantum roadmap milestones, including the most supercomputing qubits in one system and set down a new industry challenge. During these summits, IBM updates the industry on its on-going efforts to make ...
EE Times
Microsoft could soon have its first union
Some 300 quality assurance workers at Microsoft-owned gaming studio ZeniMax are in the process of voting to form what would be the first union at the tech giant, organizers ...
CNN
✷ ✷ Supplier Spotlight ✷ ✷
ECI Technology, Inc.
ECI Technology is the leading provider of Chemical Management Systems for Semiconductor, PV, and PCB ...
ALL Circuits
ALL Circuits is France's largest EMS with manufacturing facilities in Meung-sur-Loire and Bayonne, France and ...
Circuit Check Inc.
When time to design and deliver is critical, we have the automated test systems and ...
Corelis, Inc.
Corelis offers bus analysis, embedded test solutions, and the industry's broadest line of JTAG/boundary-scan software ...
Test Your Knowledge

Which rank does not exist in the U.S. Army: Major-General, Brigadier-General, Brigadier, Second Lieutenant?
See answer below.
Quote of the Day

"If you have an idea of what you want to do in your future, you must go at it with almost monastic obsession, be it music, the ballet or just a basic degree. You have to go at it single-mindedly and let nothing get in your way."
Henry Rollins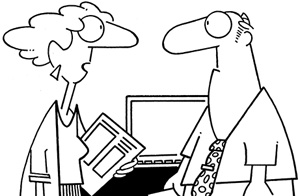 "I don't mind that our new boss is so young, but I do object to mandatory testing for cooties."


Copyright © Randy Glasbergen
Test Your Knowledge Answer

Which rank does not exist in the U.S. Army: Major-General, Brigadier-General, Brigadier, Second Lieutenant?
Answer: Brigadier is a rank in the British Army