What Year Was It?
Cyanide-laced Tylenol Kills Six
Flight attendant Paula Prince buys a bottle of cyanide-laced Tylenol. Prince was found dead on October 1, becoming the final victim of a mysterious ailment in Chicago, Illinois. Over the previous 24 hours, six other people had suddenly died of unknown causes in northwest Chicago.
The day was Sep 29. What year was it?
Apple Glasses coming soon? Tim Cook teases revolutionary AR
Apple rarely announces products that aren't ready to be released. And it hardly teases top-secret devices it might be developing behind closed doors. But augmented reality (AR) is somewhat of an exception, especially when it comes to Tim Cook teasing what Apple is interested in. The executive just addressed the topic of AR in a new interview. He teased that people ...
BGR
Poster: Evolution of in-vehicle networks
Developments in Advanced Driver-Assistance Systems (ADAS) are creating a new approach to In-Vehicle Network (IVN) architecture design. With today's vehicles ...
Rohde & Schwarz
✷ ✷ Supplier Spotlight ✷ ✷
SMS Electronics Ltd
SMS provides a local gateway to design, development and distribution resources across the entire supply ...
Whizz Systems, Inc.
We cover the entire spectrum of product development and manufacturing with highly experienced in-house resources. ...
PFC Flexible Circuits
PFC Flexible Circuits Limited designs, manufactures and assembles flexible circuits and rigid flex. PFC is ...
Fancort Industries
Fancort Industries is a leading Manufacturer, Distributor, & Integrator of high quality tooling & automation ...
Test Your Knowledge

Is pi a whole, imaginary, rational or irrational kind of number?
See answer below.
Quote of the Day

The measure of a man's real character is what he would do if he knew he would never be found out.
Thomas B. Macaulay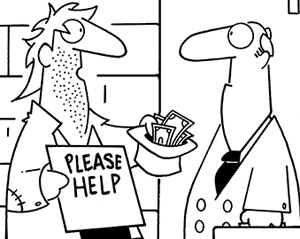 "It works out pretty well taxwise. I write off the whole block as my home office."


Copyright © Randy Glasbergen
Test Your Knowledge Answer

Is pi a whole, imaginary, rational or irrational kind of number?
Answer: Irrational. Irrational numbers cannot be expressed as the ratio of two whole numbers.